---
By Salome Dermati,
On October 8, the first and only vice presidential (VP) debate was held in Salt Lake City, Utah, and lasted 90 minutes. The current serving VP, Mike Pence, and his Democratic challenger, Kamala Harris, engaged in a meaningful discussion, that was qualitatively distinct from the first presidential debate between the incumbent President, Donald Trump, and former VP, Joe Biden. Overall, it was average and predictable, considering that the notorious fly that stayed on Pence's hair for approximately 2 minutes was the highlight of the night.
Both candidates behaved rather civilly, even though Harris had to stop Pence from interrupting her by saying: "Mr. Vice President, I'm speaking." Even though they recognised a number of divisions between them, it was principally on policy, not personality; they did not go so far as to vehemently attack and diminish the other. Indeed, Pence told Harris it was a "privilege" to share the stage with her. She was specifically praised for her demeanor because she presented herself as calm, yet sharp and straightforward.
The debate touched on various issues, from race and the economy, to the Supreme Court (SCOTUS) and foreign policy. Pence stood by his and Trump's position against abortion rights and asserted that the "administration fights for economic growth and pushes back against environmental extremism". Harris advocated for the Affordable Care Act (ACA), commonly known as Obamacare, against which the SCOTUS is scheduled to hear arguments next month. However, she avoided giving a clear answer to the prospect of "court packing" the SCOTUS, if Amy Coney Barrett, Ruth Bader-Ginsburg's successor, is confirmed. Thirdly, the two opponents disagreed on China, with Pence calling Biden its "cheerleader", whereas Harris criticized the bilateral trade war and maintained that the American side had lost.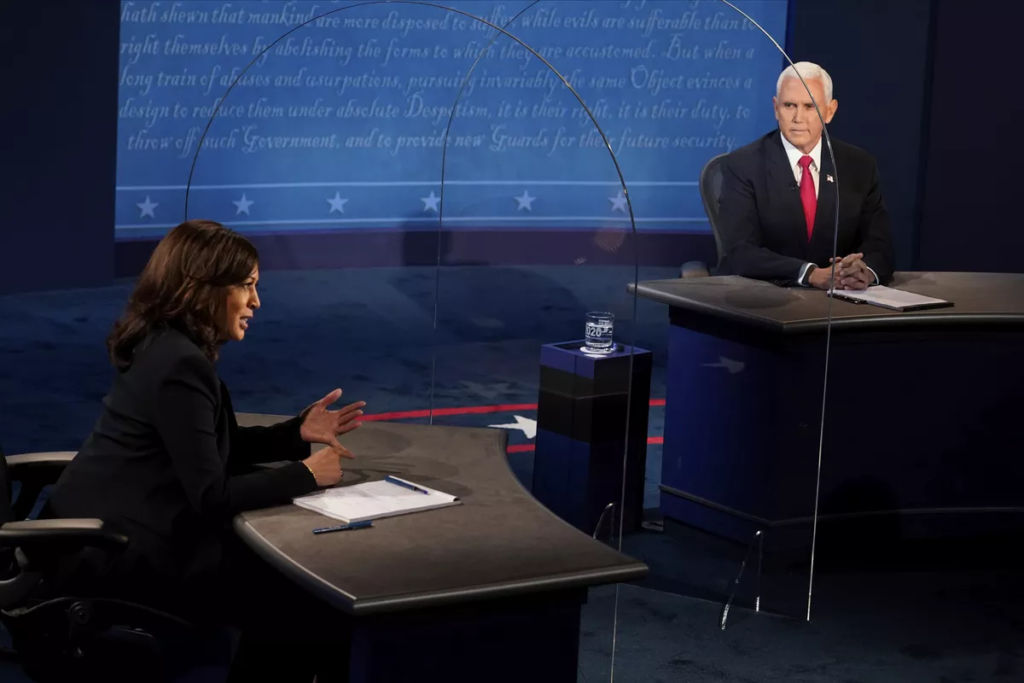 Pence went against Harris' progressive record as a prosecutor in California, to which she responded by saying that she would "not be lectured to" about law and order and criminal justice. He also attacked Biden for his past plagiarism allegations and added that his plan to combat the pandemic "looks a little bit like plagiarism". He was mostly defensive and evasive, including in a question on whether Trump would recognise the results of the election in case he lost.
Another topic that was brought up related to the military, namely the President's aspersions against military officers. Harris emphasised that "this is about a pattern of Donald Trump's, where he has referred to our men who are serving in our military as suckers and losers, because of course he only thinks about what is in it for him." Pence merely described these "slanders" as "absurd".
More importantly, the biggest "theme" of the debate was Covid-19; the plexiglass shields were a visible reminder of the situation in the White House, although Harris did not talk about the President contracting the virus. The debaters clashed on the administration's handling of the pandemic, with Harris declaring it "the greatest failure of any presidential administration in the history of our country". She also admitted that she would not take a Covid-19 vaccine, if it were recommended by Trump, to which Pence responded by saying: "I just ask you to stop playing politics with people's lives" and argued that she was undermining the people's confidence in the White House. In addition, Harris accused the latter of downplaying the danger of the new coronavirus by stating: "They knew and they covered it up. The president said it was a hoax. They minimised the seriousness of it." Pence, on the other hand, defended the Rose Garden event for Barrett's official nomination, as a result of which the President, alongside many other attendees, tested positive for the virus.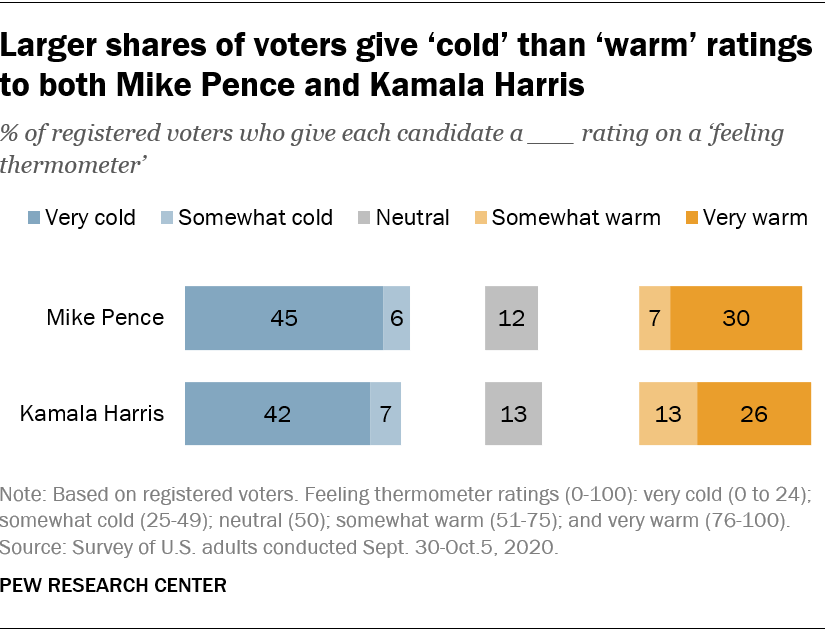 Now that the dust has settled, it is time to consider whether the debate has caused any significant change. Traditionally, it has not affected the outcome of the general election, therefore it is safe to assume that undecided voters have not been persuaded one way or another. This year, however, the situation is vastly different because new questions arise. For example, knowing Harris' policies and priorities, many wonder what role she will play in Biden's administration, given that he is painted as more moderate against her progressive background. By contrast, Pence has been described as the "steady hand" in Trump's administration.
Probably the most crucial concern regards age. Trump is now 74 years old, obese, and has tested positive for the coronavirus. Biden, if elected, would be the oldest-sitting President at 77 years old. In this context, the prospect of either VP taking over is highly realistic. Harris would be the first woman, including an African-American and Asian-American woman, to be VP or President.
In any case, Harris and Pence are viewed as the future of the Democratic and Republican party respectively, considering they could run for President in 2024. History favours them, given that 14 former VPs have become President, eight of them as a result of the latter's death and the rest after a general election. Interestingly, a recent survey conducted by the Pew Research Center showed that both candidates "elicit more negative than positive feelings from registered voters." Nevertheless, the discussion over the debate and its participants is ongoing and, evidently, more passionate and widespread than the previous election years.
---
References 
---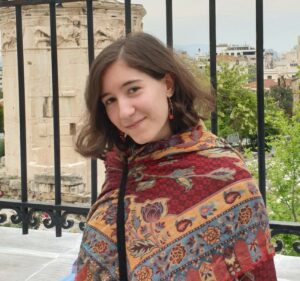 Salome Dermati
Undergraduate student at the Department of Political Science and Public Administration at the National University of Athens, specializing in International and European Studies. Has participated in three short-term Erasmus+ programmes, as well as in one for studies in Madrid. Has realised a three-month internship at Europe Direct ELIAMEP, and has been a team coordinator and contributor to the opinion column of SAFIA Blog. Speaks English, Spanish, and French, and publishes original poems.